Connecting Developers of Color To Capital
In an effort to support a more diverse pool of local real estate developers, Capital Impact Partners has launched the $20 million Diversity in Development – DMV Loan Fund. A grant program to provide additional equity support is also being launched in conjunction with the Fund.
This Fund provides a new tool to increase Capital Impact's long-time commitment to equitable development and inclusive growth in the Washington Metropolitan region by deploying low-cost and flexible financing to local developers of color — with a preference given to participants and graduates of Capital Impact's Equitable Development Initiative (EDI).
It is our goal to clear pathways to success for developers who face barriers to entering the real estate industry due to lack of capital, equity, and experience as a result of structural racism and disinvestment over the course of generations. In doing so, we can help ensure that developers in the Washington Metropolitan area are more representative of and responsive to residents of color, who make up roughly half of the region's population.
Key features of the Diversity in Development – DMV Loan Fund:
Predevelopment and acquisition financing for housing and community facility projects sponsored by local developers of color
Loans from $500,000 to $5 million
Predevelopment loans up to 75% Loan-to-Cost, Acquisition loans up to 100% Loan-to-Value; and combined Predevelopment + Acquisition loans up to 125% Loan-to-Value
Loan terms up to 5 years
Interest-only payments (some principal payments may be required on a case-by-case basis)
Equity requirement as low as 5% of project costs
Equity grants available in some instances
*Please download fact sheet to see full terms
Advantages of borrowing through Capital Impact Partners:
With our headquarters in Arlington, VA, we have invested more than $250 million locally in projects, including multifamily affordable and workforce housing, health care facilities, healthy food businesses, and education facilities
We are familiar with local market conditions across the DMV and have worked with developers of color in D.C., MD, & VA. 
Through our Equitable Development Initiative, we have deepened our commitment to fostering an environment where developers of color can advance. 
Our on-the-ground team and local partnerships allow us to leverage our networks and resources for broader impact. 
As a mission-driven organization, we are committed to supporting projects that create social and economic justice.
As a developer of color focused on nontraditional projects that create unique opportunities to expand affordable housing, it can be a challenge to secure capital. Capital Impact's Diversity in Development - DMV Loan Fund fills a necessary gap in the marketplace by focusing on mission-based projects that support community needs while also ensuring they can be built in a cost-effective manner.
Mustafa Durrani
Principal
Durrani Development Corporation
Capital Impact has been very proactive and diligent about their organization's racial equity journey and what that means for the products they are developing and the people they are serving. They are mission-aligned with us, and that is another reason I encourage other Black developers to work with Capital Impact.
Thomas Houston
Medici Road
Financing Black Developers That Support D.C. Neighborhoods
After graduation from our Equitable Development Initiative, Thomas Houston and Talayah Jackson had a vision to transform a vacant lot in Washington, D.C.'s Ward 7 into a 17,000 sq. ft. building with affordable housing, a locally-owned grocery store, and office space for local entrepreneurs. Their nonprofit organization, Medici Road, just needed the right financing partner. Through our Diversity in Development – DMV Loan Fund we were able to provide a nearly $1 million loan to jumpstart the project and bring important services to this D.C. neighborhood.
Equitable Development
Initiative
In an effort to better ensure that real estate developers of color in Detroit and the Washington Metro region are able to participate in local revitalization in a way that reflects local diversity, we launched the Equitable Development Initiative.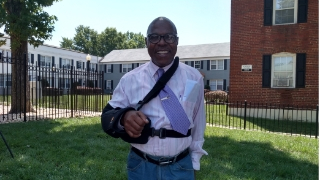 Worthington Woods: Washington, D.C.
Bringing "Co-Located" Services to D.C. Neighborhoods