Improving Academic Performance
Charter schools continue to improve, with studies showing students surpassing those in traditional public schools in reading gains and keeping pace in math. Charter schools' ability to innovate and direct resources toward specific needs and use customized teaching philosophies support that continued success
Engaging Families
Research shows that children with parents who are invested in their education are much more likely to succeed than those whose parents are not involved. Typically spearheaded by the community, charter schools work to make sure families are engaged in the students' learning process by encouraging their involvement and stressing student outcomes.
Supporting Diversity
While diversity is positive in many ways, the struggle to educate large classrooms of children with varying language proficiency and socio-economic backgrounds is challenging. Poor families, black students and Hispanic English-language learners have been found to benefit from a charter school education.
Educate More Students
Over the last decade, the number of low-income students in our nation's classrooms has grown by 32 percent, while funding for public education has increased by only 14 percent. Independent charter schools, funded through private and philanthropic capital, can fill that void.
Support Education Innovation
In effective charter schools, the mission drives every aspect of the school program. The school's freedom to experiment, and be creative in terms of organization, budgeting, scheduling, curriculum, and instruction create a variety of ways to deliver long-term impact for students.
Grow Local Economies
Charter schools can have a transformative effect in revitalizing areas caught in cycles of poverty, crime, and social instability. Constructing a new school can bring a substantial amount of vibrancy and economic activity to a community, further fostering investments in the surrounding community.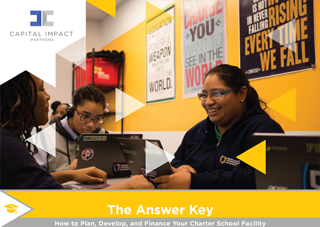 Capacity Building
We provide charter school operators step-by-step assistance in planning, evaluating, and implementing projects through all key stages of facilities development, including the creation of practical tools for assessments, budgeting, and balance sheets. This includes our "Answer Key," a simple how-to guide with designed to help navigate the school construction process.
Download The Answer Key
Education Financing
We understand that no two charter schools have the same needs and have expertise in setting up a wide variety of transactions for small schools as well as larger institutions. We also embrace innovative approaches such as schools that host community health centers.
See our Financing Options
Working in Partnership
As an active member of the Charter School Lenders' Coalition, we are working in partnership with other thought leaders to improve the charter school industry's access to capital and policy and technical assistance that is critical to the development of successful, well managed schools.

Equitas Academy
Equitas Academy provides K-5th education to the low-income community of Pico-Union in central Los Angeles. Nearly all students qualify for the free or reduced price lunch program and 62 percent of students are new English speakers. We helped secure $8.9 million in New Markets Tax Credits to renovate the school and nearly double its capacity.

KIPP Raíces Academy
KIPP Raíces Academy is a Los Angeles charter school serving 515 K-4th graders. Ninety-six percent of students are Hispanic. Ninety percent of students qualify for the federal free and reduced lunch program. We provided $2.5 million in New Markets Tax Credits financing to build a new school to accommodate more students.

Systems Integration Support
Working in Partnership
El Sol Arts and Science Academy
We partnered with The California Endowment to provide financing to El Sol Arts and Science Academy, a charter school in Santa Ana, CA. The school has a healthcare clinic on site, providing easy access to care for students and their families.