Mixed-Income Development
A combination of good planning, good design, and higher densities can support healthy, interactive, walkable areas with concentrations of services and amenities that can support households across the income spectrum.
Inclusive Growth
Research suggests that the healthiest neighborhoods avoid high concentrations of extreme wealth or poverty. Diverse, mixed-income communities promote pathways to economic mobility and equitable access to quality services.
Revitalized Neighborhoods
With the right investments and commitment, Detroit is becoming a city where newcomers and current residents alike possess equal access to good homes, safe and vibrant neighborhoods, good jobs and quality educational supports.
Community Partnerships
Our Detroit-based team works directly with a variety of cross-sector organizations to ensure that solutions are organically built from the ground up and account for the local realities facing residents, policy makers, philanthropic institutions, and investors.
Project Financing
Often overlooked by traditional banks, our mission-driven lenders' work ensures that good projects that help build healthy communities for all Detroiters receive the financing they need. We can provide a variety of loans from pre-development to tenant improvements to full scale construction.
See our Financing Options
Public Policy & Research
We examine and advocate for scenarios to help community development and finance professionals think through which development trajectories could help cultivate a healthy income mix in order to best serve Detroit neighborhoods in the long term. See our research below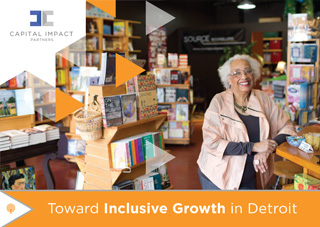 Toward Inclusive Growth
In this report, we've laid out a framework that addresses scenarios for cultivating mixed-income neighborhoods where a diverse set of residents can live, work and grow together. The report also maps out a path that groups can follow to successfully invest in ways that drive inclusive growth.
Read Our Report
Detroit Corridor Growth Scenarios
This update to our "Toward Inclusive Growth in Detroit" report provides new demographic, land use and inclusive growth scenarios for a majority of Detroit's "corridor areas" located adjacent to traditional mixed-use and commercial nodes and corridors.
Download the Report
Addressing Resident Relocation & Displacement
Our multifamily displacement risk assessment has led to innovative resident subsidies and financing guidelines to better retain middle income households, while also ensuring equitable outcomes when relocations result from a multifamily rehab.
See Our Recommendations