Thank you for completing your application for the Equitable Development Initiative.
We plan to inform all applicants of our decision by the end of the year.
Questions? Please contact:
Jarrett Sanders, Detroit Program Manager
jsanders@capitalimpact.org | (313) 230-0147
Thank you for all of your efforts in helping to build a more equitable and inclusive city for all Detroiters!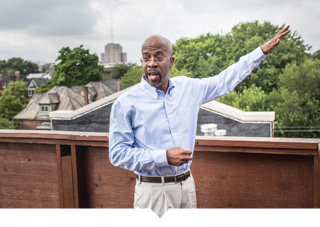 Kirby Center Lofts
When Richard Hosey returned to his hometown in 2008, the economic downturn had completely changed the city he remembered. With help from Capital Impact, the Detroit native has focused his efforts on returning the city to its former greatness through projects that foster inclusive growth for all residents.
2018 EDI Cohort Profiles
The EDI program launched with promising individuals representing a broad spectrum of community development expertise. Follow along as we take a deep dive with three participants to learn more about their backgrounds and their future plans.
Imperial Fresh Market
An immigrant from Iraq, Sam Shina made Detroit his hometown in the 1980s and never left. Through good times and bad, residents have relied on his stores for healthy food options. His partnership with Capital Impact has helped him continue to grow and expand to meet residents' needs.