Supporting Projects that Preserve Affordable Housing and Prevent Displacement
In an effort to support mission-driven developers in addressing the San Francisco Bay Area's housing crisis, Capital Impact is deploying a variety of lending products through The Partnership for the Bay's Future.
This $500 million initiative launched by the Chan Zuckerberg Initiative, along with the San Francisco Foundation, Facebook, Ford Foundation, and LISC is working to advance meaningful change that addresses critical housing needs, prevents displacement, and supports racial and economic inclusion across the Bay Area.
Our shared goal is to stabilize and expand housing for up to 175,000 households over the next five years, and preserve and produce more than 8,000 homes in the next decade.
As part of this effort we are participating in two distinct loan funds: the Bay's Future Fund and the Community Housing Fund. Details for each are in the table below and in the fact sheets found in the sidebar.
Key features of the Bay's Future and Community Housing Funds:
The Funds are unique due to their regional coverage, as well as providing flexible, nimble, and creative approaches that support your financing solutions. Both Funds are open to Non-Profit Housing Developers, mission-aligned For-Profit developers, or service providers partnered with either.
Coverage: Available across the five-county region of San Francisco, San Mateo, Santa Clara, Alameda, and Contra Costa counties.
Flexible: Offers new financing products that have more flexible terms than traditional financing options. The Funds will cover the full range of financing needs, including: predevelopment, construction, acquisition, mini-perm, and term loans.
Nimble: Designed to address a wide range of current housing needs in a competitive market and to be responsive as market needs change.
Creative: Demonstrates innovation in addressing the individualized and unique needs of each project. 
Sample Terms
 
Bay's Future Fund

Community Housing Fund

Project Eligibility
Affordable housing rental projects serving a range of incomes, from 0-120% AMI
Projects with at least 20% of its tenants at 30% AMI or below; Santa Clara projects must meet Measure A [AMI] definition1
Project Size

Multifamily projects with 5 or more units

Multifamily projects with 5 or more units
Term

Loans must mature by 8/1/2030

Up to 18 years; maturity cannot exceed 2038
Rate

Competitive interest rate determined by AMI, loan term, and originator; typical range of 4–5%

2%
Loan Size

Up to $7.5 million

Up to $15 million
Loan-to-Value

Up to 90-100% for high impact projects

Predevelopment or Acquisition: Up to 150% of as-is appraised value or purchase price


Construction: Up to 100% on the as-completed value
1 Type 1: Projects that commit at least 50% of the units within the project as PSH units, RRH units, or a combination thereof; Type 2: Projects that have an affordability structure resulting in an average affordability of 45% of AMI and commit a minimum of 1/3 of the affordable units as a combination of PSH and RRH, 1/3 of the affordable units for ELI households and 1/3 of the affordable units for households earning up to 80% AMI.
Advantages of borrowing through Capital Impact Partners:
We have a local office in Oakland and our staff is available to personally engage with applicants to make their projects work;
Community partner that has made more than $215 million in mission-driven investments across the Bay Area;
As a mission-driven organization, we are committed to supporting projects that create social impact and address issues of equity and justice

Questions About the Fund?

What has always made the Bay Area so special is its entrepreneurial spirit and its orientation towards progress and justice. Those same qualities can help us build collaborative, thoughtful, and new solutions to make housing affordable and accessible for all people who call the Bay Area home.
Priscilla Chan
Co-founder
Chan Zuckerberg Initiative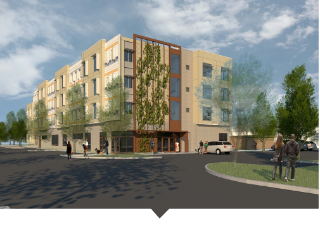 Linking Affordable Housing with Support Services
Our first BFF project – the Depot Community Apartments – is a $5.6 million loan supporting Allied Housing's mission to provide affordable housing linked to supportive services for low-income individuals and families. The project focuses on formerly homeless persons with serious mental illness or other disabilities.
Ensuring Equitable Health Care Across the Bay Area
A tireless champion for immigrant communities and equitable access to health care for all, Capital Impact is proud to partner with women leaders like Jane Garcia. CEO of La Clínica, Jane has sparked positive change in communities across the San Francisco Bay Area.
Avoiding Displacement by Investing in Affordable Housing
In the neighborhood with Facebook and other tech companies, our $2.5 million Redwood City project in partnership with HIP Housing, the Sand Hill Foundation, and Premia Capital helps preserve affordable housing and avoid displacement in this rapidly gentrifying neighborhood.